Home About Lynne Kossow MD
Lynne B. Kossow, M.D.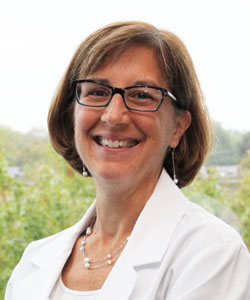 Dr. Lynne Kossow graduated Magna Cum Laude from Bryn Mawr College with a BA in Psychology. She then went on to receive her medical degree from the University of Pennsylvania School of Medicine. Dr. Kossow is Board Certified in the practice of Lifestyle Medicine by the American College of Lifestyle Medicine.
Following medical school she completed the first 2 years of her internal medicine residency at the Washington Hospital Center in Washington DC. She completed her residency at the Graduate hospital in Philadelphia after which she was asked to join their department of Internal Medicine as an attending physician. She worked at Graduate Hospital for 2 years before moving with her family to the Princeton area in 1993.
Dr. Kossow has been practicing Internal Medicine in the Mercer/Middlesex county areas now since 1993. She has been an attending on staff at the University Medical Center of Princeton since that time. She is also an Assistant Clinical Professor of Medicine of the Robert Wood Johnson School of Medicine and has been teaching residents and students since 1993.
Dr. Kossow values greatly the doctor patient relationship. She strongly encourages her patients to follow a healthy lifestyle and she emphasizes physical exams and screening tests that can help prevent or catch early preventable diseases.
Dr. Kossow is a member of the American College of Physicians as well as the American College of Lifestyle Medicine.
Dr Kossow was recognized again in 2017,  being named by NJ Monthly as one of the Top doctors  in NJ.
In her leisure time she enjoys gardening, reading, exercising, travel and spending time with friends and family.
See Dr. Kossow's CV.
Watch video from the American College of Lifestyle Medicine

We're pleased to announce that New Jersey Monthly magazine has honored Dr. Kossow as one of New Jersey's Top Doctors. The recipients of this honor were voted on by physicians currently practicing within New Jersey.